Last week the Scor-Pal team hopped with Fancy Pants and today I can share my projects that were featured.
I made some quick and easy last minute gifts with Fancy Pants' Hopscotch papers (absolutely fun prints!) that would be perfect when you need a "little something" for a coworker or friend.  The folded papers hold 2 cookies and one or two tea bags.  I chose to add a teabag in one side and a little tag in the other to write a short note.
The original design is by Debi Pippin and can be found here.  Another tutorial with pictures can be seen here.  (In step 3 of that tutorial, ignore the 6″ score as it must be a typo).  I took a few photos along the way as well…
Start with an 8 1/2 x 12 inch piece of double sided patterned paper.  Using a Scor-Pal, score the 8 1/2 side @ 2 1/2 and 6.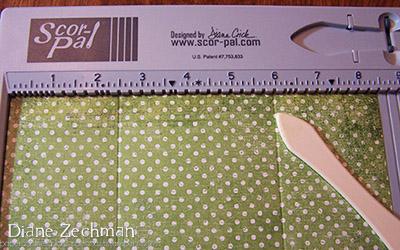 Next score the 12″ side @ 1 1/4, 2 1/2, 5, 7, 9 1/2, and 10 3/4.
Crease all scored lines and unfold.  Next you will cut 2 rectangular sections from each corner (cut a 2 1/2″ square from each corner) to look like this…
Now score the 4 center corners diagonally before folding them in.
After folding the center corners, it will look like this.
Fold the top and bottom in.  They will overlap each other a bit.  I added a bit of glue here but it's really not necessary.
Flip the paper over and fold the scored lines to look like this…
When cutting the "tag shape" on the top, first fold the top flap down on each side.  I added a bit of adhesive underneath.  Then I measured 3/4″ in from each end and made a mark.
Then cut both sides to look like this.  Punch 2 holes at the top to tie a ribbon through.
Decorate and fill as desired.  I used some adorable Magnolia Minis from the Magnolialicious store.
A view from the side… fill a 4×6 cello bag with 2 cookies, add a twist tie to the top, and insert so the baggie is between the ribbon tied at the top.
And here's the back… I added a tag but you could add a second teabag here.  Some Fancy Pants stickers adorn the tags.
The buttons are also from the Fancy Pants Hopscotch line, as well as the "believe" banner and "peace" sticker.
Thanks for stopping by!  Have a blessed Christmas!
stamps- Magnolia Minis- Snowy Hug, Santa's Bench, Tilda in Winter Night; paper- Fancy Pants- Hopscotch, white, SU! Wild Wasabi; ink- Memento Tuxedo Black, SU! Wild Wasabi; accessories- Scor-Pal, Fancy Pants Hopscotch stickers, banners, and Mingled Buttons, Copics, Marianne Design tree die (LR0136), ribbon, Stickles, 4×6 cello bag, SU! tag corner punch.